Geography Awareness Week | Triple G Colloquium | Whither the Global Arctic? | Dr. Mia Bennett
Fri, November 18, 2022 4:00 PM at Virtual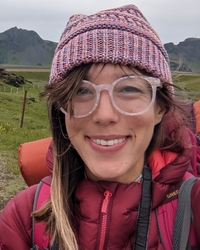 Wrap up Geography Awareness Week by joining us for our final Triple G Colloquium session of the Fall Semester as we welcome Dr. Mia Bennett from the Department of Geography at the University of Washington. Dr. Bennett will present "Whither the Global Arctic?"
Click here to register for this virtual event.
Abstract:
For thousands of years, the Arctic has been imagined as lying at the edge of the Western world. Yet in recent years, the region has become perceived as less peripheral as countries, multinational organizations, corporations, and other stakeholders located south of the Arctic Circle have demonstrated growing interest in the circumpolar north. This surfeit of interest has led to declarations of the emergence of a "Global Arctic." Although the Arctic has been linked into global trade networks for over a millennium via the Vikings and later European traders and fishers, the contemporary globalization of the Arctic has indeed seen a widening of those connections. Asian countries such as China, Singapore, South Korea, and Japan have increased their scientific research and commercial activities, such as shipping and fishing, in the region, while building up their participation in regional governance. The Arctic's globalization, however, is tenuous, as the Russian invasion of Ukraine has bleakly and dramatically revealed. This talk will examine the origins of the Arctic's global connections, the region's recent turn towards Asia, and the future of a region that is geopolitically and climatically fragile.
Bio:
Mia Bennett is an assistant professor in the Department of Geography at the University of Washington. As a political geographer with geospatial skills, through fieldwork and remote sensing, she researches the geopolitics of development in northern frontiers. She edits a long-running blog on the Arctic at cryopolitics.com.