Celebrating Geography Awareness Week: An Evening with Julie Mehretu
Mon, November 14, 2022 7:00 PM - Mon, November 14, 2022 8:30 PM at MSU Business College Complex, 632 Bogue Street, Rm N130, East Lansing, MI 48824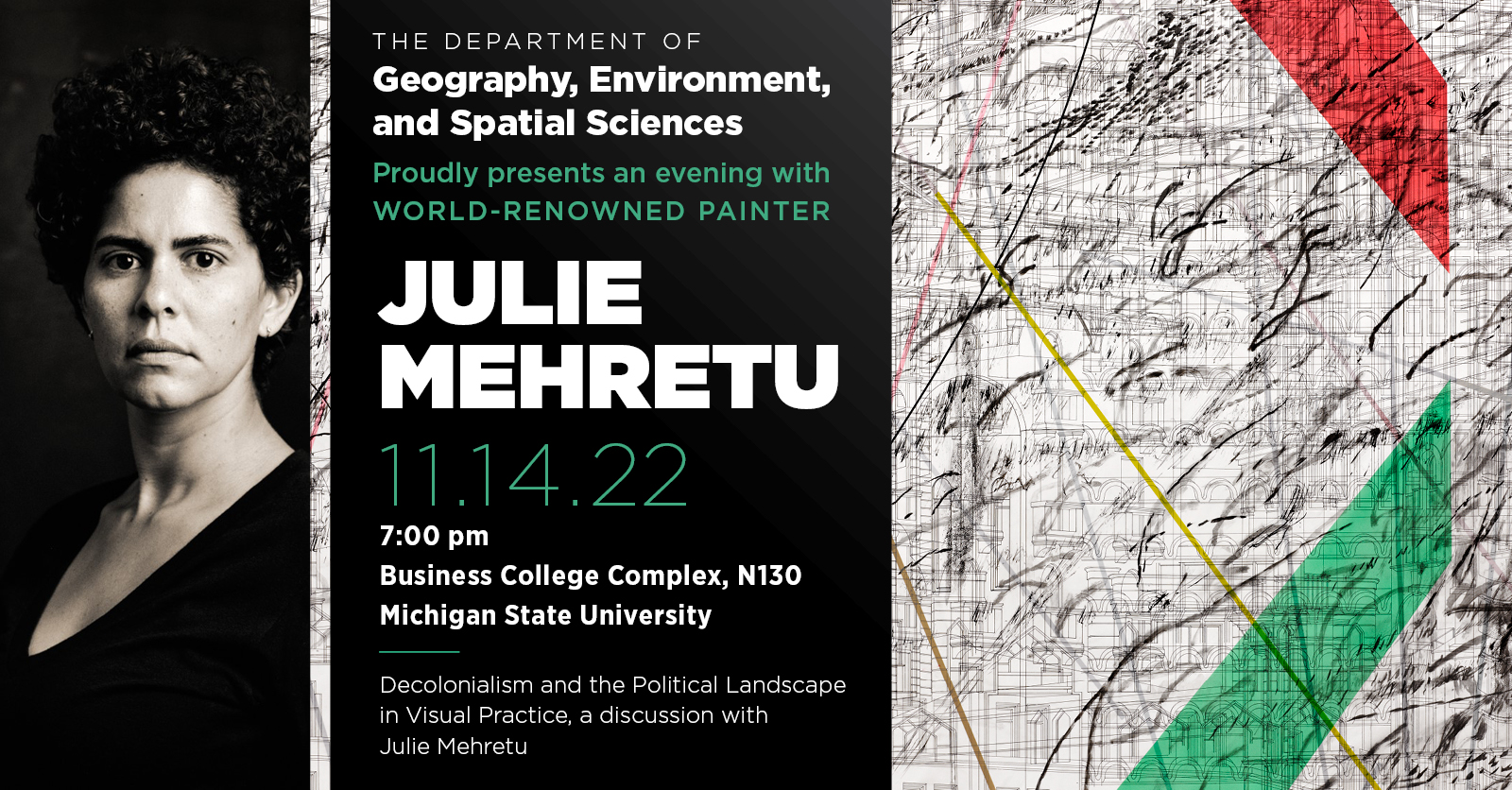 Mark your calendar and plan to join the Michigan State University Department of Geography, Environment and Spatial Sciences on Monday, November 14, 2022, at 7:00 PM at the MSU Business College Complex during the 35th Annual Geography Awareness Week for "Decolonialism and the Political Landscape in Visual Practice, a discussion with Julie Mehretu."
Born in Addis Ababa, Ethiopia in 1970, Julie Mehretu lives and works in New York City and Berlin. She received a Master's of Fine Art with honors from The Rhode Island School of Design in 1997, a Bachelor's from Kalamazoo College in 1992, and studied at University Cheikh Anta Diop in Dakar, Senegal. Mehretu is a recipient of many awards, including The MacArthur Award (2005), the Berlin Prize: Guna S. Mundheim Fellowship at The American Academy in Berlin, Germany (2007), and in 2015, she was awarded the US Department of State Medal of Arts Award. An important mid-career survey of Mehretu's work opened in 2019 at the Los Angeles Museum of Contemporary Art, California, touring to High Museum of Art, GA (2020), The Whitney Museum of American Art, New York (2021), and the Walker Art Center, MN (2021-22). 
In exploring palimpsests of history, from geological time to a modern-day phenomenology of the social, Julie Mehretu's paintings, drawings and prints engage us in a dynamic visual articulation of contemporary experience, a depiction of social behavior and the psychogeography of space.
Mehretu's work is informed by a multitude of sources, including politics, literature, and music. Most recently, her paintings have incorporated photographic images from broadcast media that depict conflict, injustice, and social unrest. These graphic images act as intellectual and compositional points of departure; ultimately occluded on the canvas, they remain as a phantom presence in the highly abstracted gestural completed works. Mehretu's practice in painting, drawing, and printmaking equally assert the role of art to provoke thought and reflection and express the contemporary condition of the individual and society.
Mehretu is a member of the American Academy of Arts and Sciences, the American Academy of Arts and Letters, and the American Academy of Design. Her global representative is Marian Goodman Gallery.
EVENT DETAILS:
MONDAY, NOVEMBER 14, 2022 @ 7:00 PM
BUSINESS COLLEGE COMPLEX, N130
MICHIGAN STATE UNIVERSITY
DOORS OPEN @ 6:30 PM
SEATING CAPACITY: 600
AUDITORIUM FILLED ON A FIRST-COME, FIRST-SERVED BASIS
PARKING DETAILS:
Pay-By-Plate Parking is available in the Wharton Center parking structure (Ramp 3 | Lot 19) off Shaw Lane, across from Owen Graduate Hall.