MSU Spatial Data Management Team Celebrates GIS Day 2021
Wed, November 17, 2021 1:00 PM - Wed, November 17, 2021 3:00 PM at Virtual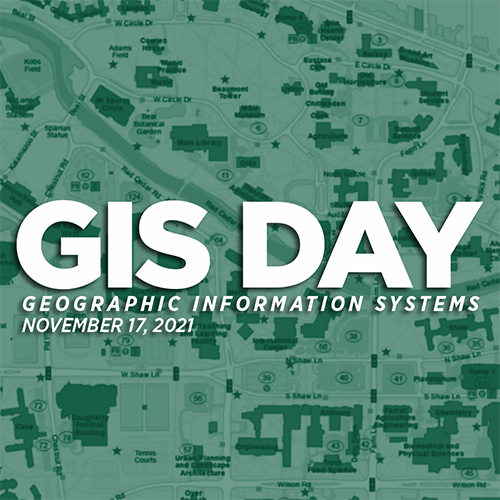 Join the Spatial Data Management team in celebrating GIS Day!
GIS Day is a day to celebrate the technology of Geographic Information Systems in all its various fields, as well as bring awareness to GIS users' projects and innovation. The first-ever GIS Day was organized by ESRI in 1999 as a grassroots effort to grow the understanding of GIS. In that same year, GIS Day was officially included in National Geographic Society's Geography awareness week.
Attendees of this free event will discover ways that GIS innovations are impacting MSU while also learning about GIS and how it may benefit their work. This event would benefit anyone that works with data or those looking to find more efficiencies in their everyday workflow or specific task. Attendees will be entered in a giveaway of 5 Personal-Use licenses from ESRI.
Register here: https://go.msu.edu/7Hp5
Event Schedule
GIS and You Connecting the Dots- Scott Friend

1:20 – 1:35 p.m.
MSU Library GIS Services- Amanda Tickner

1:35 – 1:50 p.m.
Red Cedar Flood Preparedness Using GIS- Jeremiah Saier

1:50 – 2:05 p.m.
Michigan Spartan Impact- Joel Lenz

2:05 – 2:20 p.m.
IT Implication for a statewide Hydrography Realignment- Robert Goodwin

2:20 – 2:25 p.m.
Keynote Speaker- Adam Lawver

2:55 – 3:00 p.m.