Triple G Colloquium – Indigenous Geographies & Resistance
Fri, February 26, 2021 4:00 PM at Virtual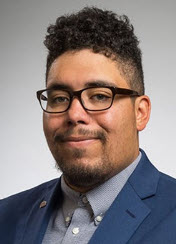 To access a recording of this past event, please click here. 
Please join the Geography Graduate Group (Triple G) on Friday, February 26, 2021, at 4:00 PM EST for the second virtual colloquium of the Spring semester with Dr. Deondre Smiles, President's Postdoctoral Scholar in the College of Arts and Sciences, Department of History at the Ohio State University.  
Dr. Smiles' research explores indigenous geographies, notably expressions of resistance of indigenous people in the US. In his talk "'Decolonized Afterlife' and Implications for More Than Human Life," Dr. Smiles will explore how his dissertation research has influenced and 'given life' to an ongoing research agenda that investigates how processes of tribal cultural resource protection can help maintain and preserve our more-than-human environments going into the future. His argument is that the defense of both the living and the dead is part of the long tradition of resistance by Indigenous nations, a tradition that becomes more important in an era of climate crisis. 
Abstract:
Death is often considered to be the terminus of any political processes surrounding the body. However, in the settler-colonial state, the deceased Indigenous body becomes subject to a whole new set of political processes that are "given life" and extend their reach over both the deceased body and the geographical spaces that they occupy. Acts such as autopsy and desecration of Indigenous burial grounds in the name of science and infrastructure demonstrate that these political processes can be disrespectful and perilous to Indigenous political and cultural sovereignty. However, Indigenous nations have proven to be adept at finding creative yet quotidian ways of resisting the settler state and its usage of their deceased relatives. Drawing upon a long tradition of Indigenous resistance on Turtle Island, their actions make possible what I call a "decolonized afterlife," or a state of being where the Indigenous deceased and spaces of burial are respected by the settler-colonial state.
If interested in having an extended discussion with the speaker, please email Ida Djenontin (djenonti@msu.edu).