Jeffrey Wilson
Academic Staff
Urban-Economic Geography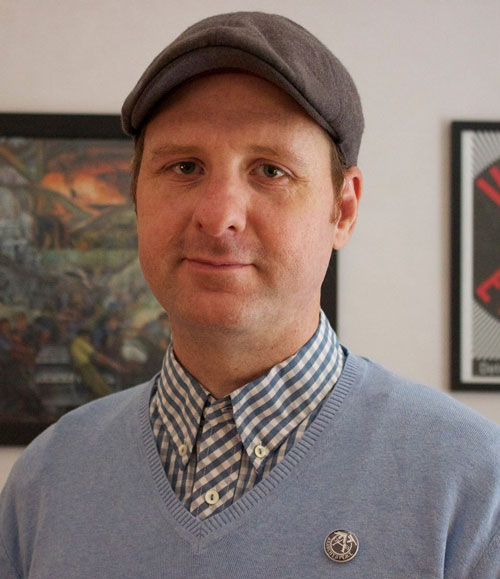 Fixed Term Assistant Professor
Geography, Environment, and Spatial Sciences
Geography Building
673 Auditorium Road, RM 110
East Lansing, MI 48824
BIOGRAPHY
Dr. Jeffrey Wilson's work is situated at the intersection of urban, health and creative geographies, as well as anthropology and visual arts, and reflects his enthusiasm and commitment to an interdisciplinary perspective. He is an Assistant Professor in the Department of Geography, Environment, and Spatial Sciences at Michigan State University. Dr. Wilson's work has contributed to a larger body of scholarship published in the Annals of the Association of American Geographers, Geographical Review and Area. In addition to research, Dr. Wilson is a passionate educator with 12 years of teaching experience. 
Completing his scholarly work, Dr. Wilson has published with the renowned New York City-based publisher Seven Stories Press whose author, Annie Ernaux, was recently awarded the Nobel Prize for Literature. The press is also the home of such authors as Kurt Vonnegut, Octavia Butler and many more. Dr. Wilson will be publishing his second graphic novel with Seven Stories Press in 2024. It is based on his fieldwork examining housing organizing in Detroit, Michigan. The book is titled We Live Here! Detroit Eviction Defense and the Battle for Housing Justice. It focuses on communities in the city working to save family homes from either mortgage or tax foreclosures.
His graphic novel, The Instinct for Cooperation: A Graphic Novel Conversation with Noam Chomsky, considers social movements, such as organizing against the banning of Mexican American Studies in Tucson High Schools and the library at Zuccotti Park during Occupy Wall Street. The book is based on a conversation with Noam Chomsky and has been translated into multiple languages.
His graphic novel writing has also appeared in The Nation, McSweeney's, CounterPunch and World War 3 Illustrated. In addition to these writings, Dr. Wilson is one of the first authors to publish a graphic novel in a scholarly journal.
Dr. Wilson's current book project examines counterinsurgency, insurgency, and geographies of legitimacy along the United States border. The book is being co-authored with a colleague at the University College Dublin.
 Praise for The Instinct for Cooperation:
"Seeing the work of a bright new comics writer like Jeff makes me optimistic about the future of comics and society in general."
– Seth Tobocman, founding editor of World War 3 Illustrated, author of You Don't Have to Fuck People Over to Survive, and Len
"By placing readers into an intimate conversation with one of this country's most important thinkers, as well as members of the Occupy Wall Street movement, Wilson and Gouveia provide a vital entry point for those seeking to wrestle with these ideas, sure to inspire further explorations of their own."
– Nick Sousanis, author of Unflattening
"Laser-sharp graphics and critical analysis, and radical love. Wilson and Gouveia give us a conversation with Chomsky that everyone can be part of."
– Kate Evans, author of Red Rosa: A Graphic Biography of Rosa Luxemburg, and Threads: From the Refugee Crisis
"Is full of laser-sharp graphics and critical analysis, and radical love. Wilson and Gouveia give us a conversation with Chomsky that everyone can be part of. Even if you think you know all about Chomsky, this beautiful book is well worth checking out"
– July Book Club Pick, Nation of Change
"Jeffrey Wilson breaks new ground, adding 'graphic interview' to the expanding categories of nonfiction comics and introducing Chomsky and his political thoughts to a new audience of readers."
– Chris Gavaler, Pop Matters
"What can be done? How do we begin to understand how to organize our thoughts—and our communities—to right inherent wrongs? One place to start might be The Instinct for Cooperation. Wilson, a doctoral candidate in geography at the University of Arizona, has distilled some of Chomsky's ideas about threats to social and economic justice into a series of conversations with Chomsky and others. These chats highlight moments in history that could very well be seen as tipping points, where decisive action spawned by malaise replaced complacency. This book may serve as a primer for those who are interested in learning how to better organize themselves to confront issues that plague our communities."
– Santa Fe New Mexican
---
AREA OF STUDY
Urban, critical and health geography. Ethnography and engaged graphic novel
---
LINKS
https://jeffreywilsongraphicnovel.squarespace.com/
---