Spartan Geographers continue to represent at 12th Annual REP Conference
October 14, 2023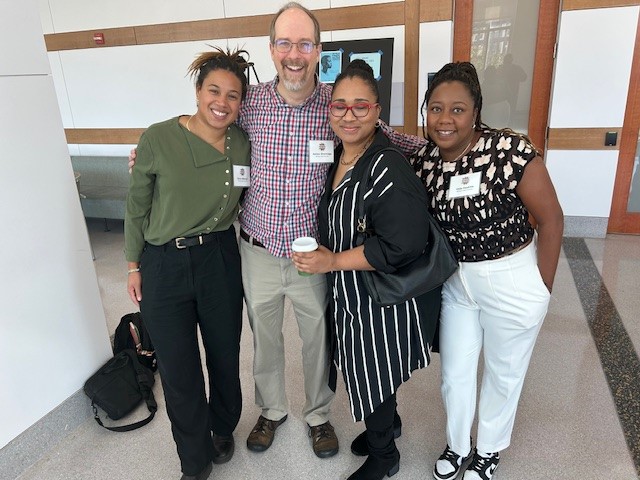 Dr. Ashton Shortridge, chair of the Department of Geography, Environment and Spatial Sciences at Michigan State University traveled to Washington, DC, in October 2023 to present research, learn, and recruit at the Race, Ethnicity, and Place Conference. MSU Geography cosponsored the conference, which is the largest national geography conference with a focus on race and ethnicity. This year's was the 12th and largest yet!
The presentation, first-authored by MSU alumna Kionna Henderson (PhD 2023), concerned the Flint Effect: the impact of the Flint Water Crisis on maternal health disparities for women living in Flint, Michigan. The analysis looked at hospital records for women in Flint whose labor and delivery occurred before, during, and after the height of the water crisis and compared the rates of severe complications to those for women living in Saginaw, a comparison city. The analysis identified consistently higher complication rates for Black women as compared to White women in both cities, even when controlling for factors such as age. A significant Flint Effect was also observed, but surprisingly, it lowered health disparities: that is, Black women in Flint after the crisis were less likely to have severe complications than Black women in Saginaw or Black women in Flint who delivered prior to the water crisis.
Dr. Shortridge also caught many presentations and posters dealing with topics like gentrification, health, homelessness, the legacy of redlining and insurance on neighborhoods, and access to services in a wide range of geographic settings across the United States and overseas. It was also exciting to see six current and former Spartan Geographers at the conference! Kelsey Nyland (Ph.D. 2019) took Cordelia Martin (Ph.D. 2022), Shortridge, and Ph.D. students Raven Mitchell and Veda Hawkins to dinner on the GWU campus, which was a lot of fun. He also recruited for the Advancing Geography Through Diversity Program and talked about diversity-oriented hiring initiatives at MSU with faculty, postdocs, and students.
Learn more about the 2023 conference here: https://repconference.org/