MSU Geography brings home Best Department Award at Homecoming
October 9, 2023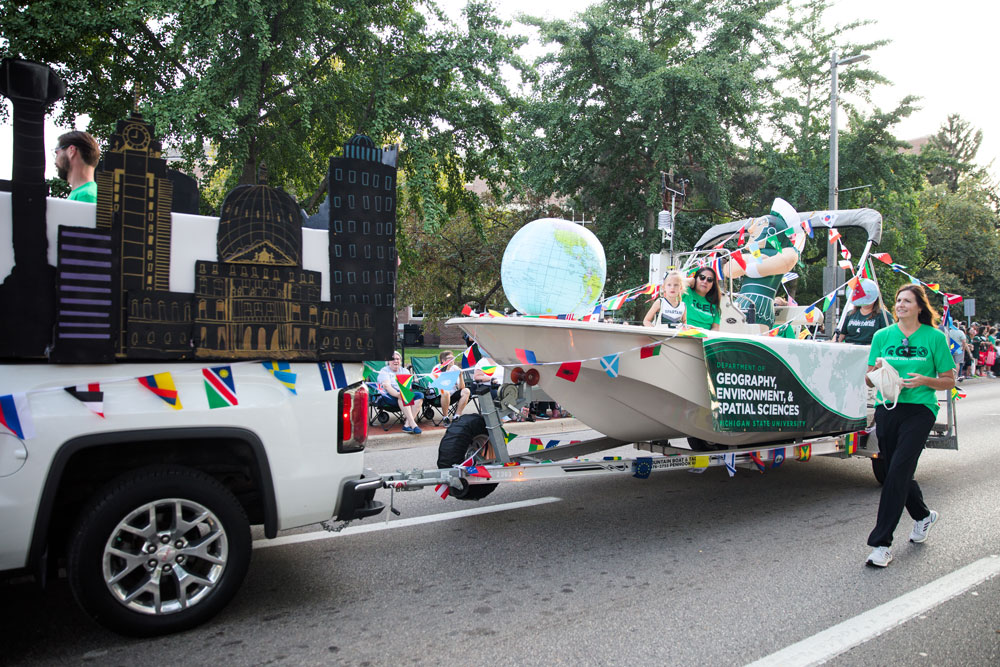 The Department of Geography, Environment and Spatial Sciences was thrilled to welcome our incredible MSU Alumni and Grand Marshall Molly Brennan back to campus for this fall's homecoming festivities during the week of September 18-23, 2023. Especially exciting was a win for our very first official participation in the MSU Homecoming Parade. A great mix of students, staff, faculty, family members, and alums donned our new department t-shirts and joined us as we wound our way through downtown East Lansing and the MSU campus on Friday evening.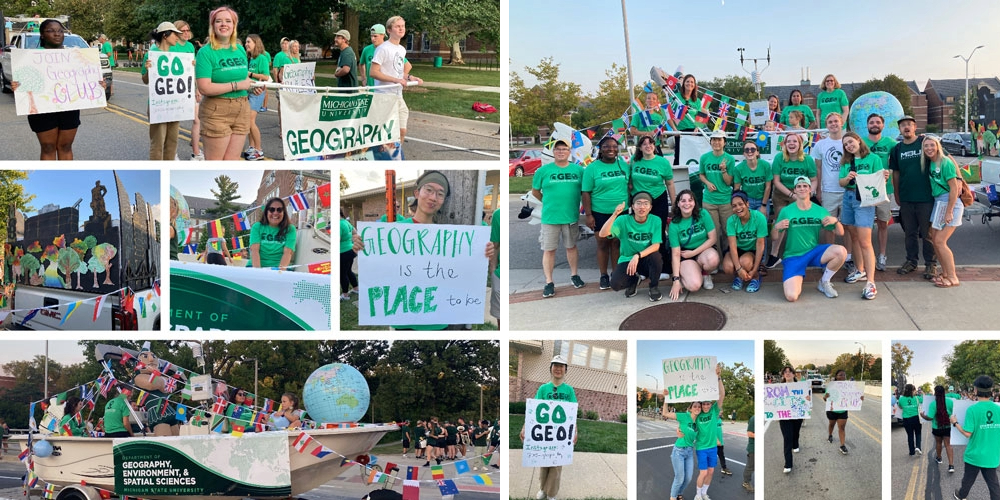 With a theme of "From City to Sea, Geography is the Place to Be," we  enjoyed promoting the discipline of Geography with a fun and unique "boat float." With Sparty at the helm, the research vessel used by Dr. Ethan Theuerkauf and the MSU Coastal Processes and Geomorphology Lab and the accompanying tow vehicle was adorned with cityscapes, banners, world flags, globes, and a host of geospatial equipment such as drones and weather stations, to name just a few. Our energetic parade crew participants walked, rode, rolled, and even flipped their way through the streets of East Lansing while thousands of spectators watched. We distributed goodies to the kids, including special squeezable globes complete with fun geography-related facts.
We were thrilled to learn that the judges voted us the Best Campus Department! Thank you to everyone who helped make this accomplishment a reality. We can't wait for next year and invite our friends, family, and all Spartan Geographers near and far to join us. We will share details as they become available, so please stay tuned.
Also, be on the lookout for information about the planned opening of our new MSU GEO store during the month of November. Items will include t-shirts, hoodies, polo shirts, and other MSU GEO-branded goodies.
Go Green!