Professor Emeritus, Joe T. Darden, publishes book examining Detroit after bankruptcy
August 22, 2023 - Patti McDonald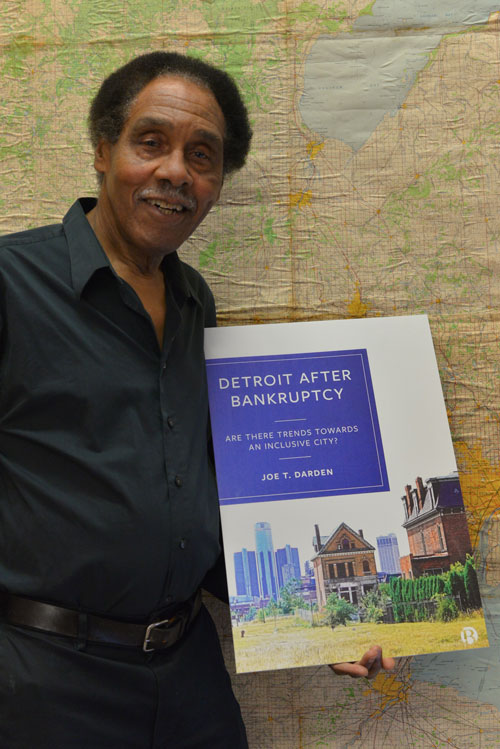 Dr. Joe T. Darden, Professor Emeritus of the Department of Geography, Environment and Spatial Sciences at Michigan State University, recently published his third book about the city of Detroit, Detroit after Bankruptcy: Are There Trends towards an Inclusive City? The book provides a close analysis of the city and its future ten years after it first filed for bankruptcy in 2013.  
Darden said his goal in writing Detroit after Bankruptcy was to quantitatively answer the question: "Is Detroit a more inclusive city after bankruptcy?" Some policymakers believe the post-bankruptcy period has offered a "new start" for the city. Darden's book closely evaluates whether or not that is the case.  
Darden said his book addresses whether or not there is a significant gap between people living in very low socioeconomic characteristic neighborhoods and those living in very high socioeconomic characteristic neighborhoods. Detroit after Bankruptcy addressed the question: "Did that gap widen after bankruptcy, or did it get smaller?"  
Dr. Darden analyzes if patterns of race, class, and neighborhood socioeconomic inequality have persisted and whether investments following bankruptcy have contributed to improvements in academic achievement, homeownership, employment, and reductions in poverty and violent crime. Darden's book provides a balanced assessment of Detroit's recovery and highlights the progress that has been made. However, he also acknowledges the challenges that remain. 
"People might say that they believe Detroit is a more inclusive city, but the quantitative data do not support this," he said. "The residents especially deserve to know what is really going on with the city." 
To evaluate neighborhoods, Dr. Darden used the Darden-Kamel Composite Socio-economic Index, which takes nine different socio-economic characteristics into account, including the percent of households below the poverty level, unemployment rates, median household income, occupational status, level of educational attainment, median household value, median rent, homeownership rate, and whether a vehicle is available.  
According to Darden, the Darden-Kamel method is an accurate and comprehensive way to evaluate neighborhoods by census tracts to measure the extent of socioeconomic inequality between neighborhoods by analyzing the nine variables. Darden said examining various socioeconomic characteristics of neighborhoods tells a more detailed story of its residents, one that could essentially help cities become more inclusive in the future. "Neighborhoods matter; they matter so much that they can impact almost everything that happens to the population living there." 
"Neighborhoods have an effect on your life, your quality of life, your educational level, whether you own a home or not, etc," Darden said. "That's why you must look really in terms of those neighborhood characteristics to answer the question of whether there were trends towards an inclusive city after bankruptcy. 
According to Darden, there are "five different" Detroits, based on the data he collected and the methodology he used, examining all neighborhoods in Macomb, Wayne, and Oakland counties and comparing the census data.  "Some people live in very low socioeconomic characteristic neighborhoods, and others live in neighborhoods with very high socioeconomic characteristics," Darden said. "People vary in characteristics based on their neighborhoods, and there is a huge gap between people depending on where they live."  
In the book, Darden also critically examined gentrification and found that the number of white residents increased in gentrified neighborhoods, and so did Hispanics. However, the number of Black residents declined. Much of Darden's research throughout his career has focused on addressing residential segregation, social inequalities, and immigration by comparing different socioeconomic characteristics. Darden believes his final book on Detroit is a fitting conclusion to his research career. 
Read more about Detroit after Bankruptcy here.