Announcing the 2023 MSU Geography Award Recipients
May 10, 2023
The Department of Geography, Environment, and Spatial Sciences at Michigan State University offers congratulations to all of our 2023 GEO Award recipients recognizing student academic achievement.
College of Social Science - Outstanding Senior in GEO | Josh Pepper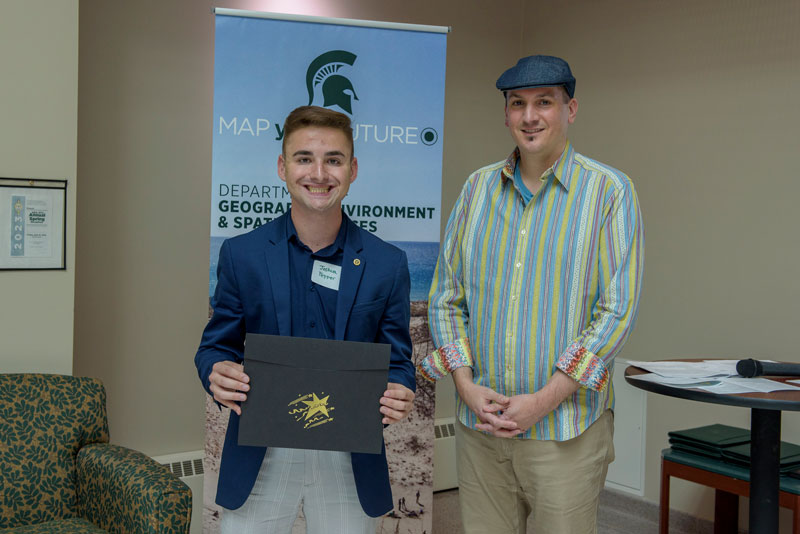 The Department of Geography, Environment and Spatial Sciences at Michigan State University proudly announces that Josh Pepper has been named the MSU College of Social Science Outstanding Senior in Geography. A native of Quincy, Michigan, Josh is graduating this spring with two bachelor's degrees and two minors, a B.S. in Geographic Information Science, a B.S. in Environmental Geography, a minor in Health & Environment, and a minor in Social Science Quantitative Data Analytics. During his time at MSU, Josh also pursued opportunities to become more involved in the discipline of geography by becoming involved in Gamma Theta Upsilon (GTU), the international honor society in geography, and also served on the Dean's Advisory Committee for the College of Social Science. This fall, Josh will be pursuing a Master's degree in Geography at the University of Tennessee-Knoxville.
James Potchen Awards in Geography for Graduate and Undergraduate Students (Undergraduate and Graduate Student of the Year) | Jessica Davis and Chris Baish
The E. James Potchen Award was established in 2008 by Harm de Blij to fund yearly cash awards for one outstanding graduate and one undergraduate student who has demonstrated exceptional leadership and service to the Department of Geography, Environment, and Spatial Sciences. The students will have shown remarkable professionalism and leadership skills in activities within both the department and the campus community.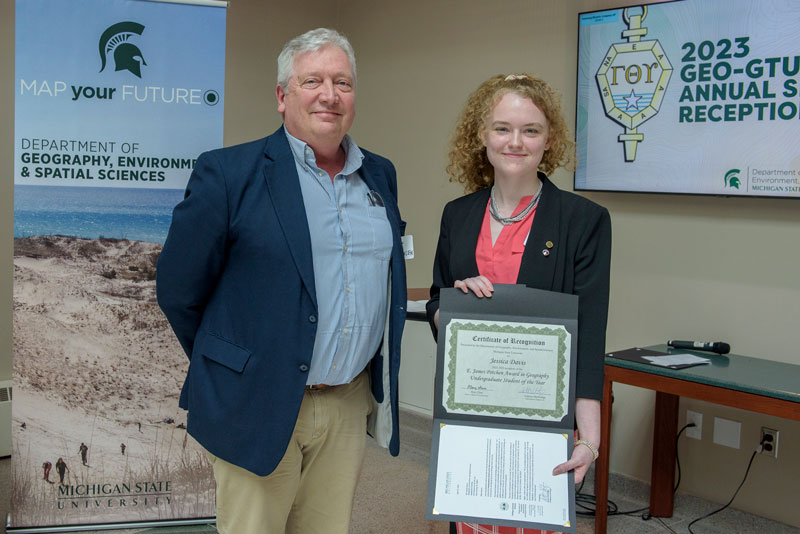 Jessica Davis would like to convey her overwhelming gratitude to be chosen as a recipient of the Dr. E. James Potchen Undergraduate of the Year Award. "It is an absolute honor to receive this award and be a part of such an amazing geography community here at Michigan State University," she said.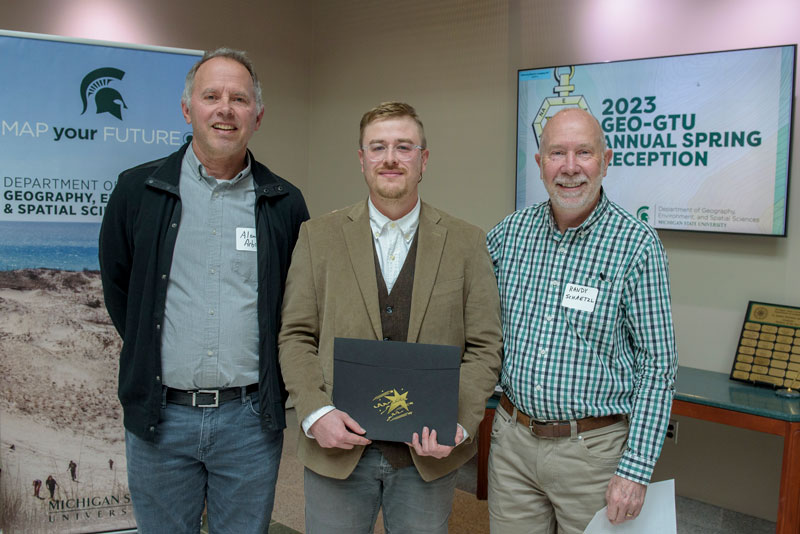 Chris Baish is honored to be named as this year's Potchen Award Graduate of the Year Award recipient. "Having now been a member of the unit for five years, it is very rewarding to have my hard work and dedication recognized. I plan to apply the associated funding toward my dissertation research," he said.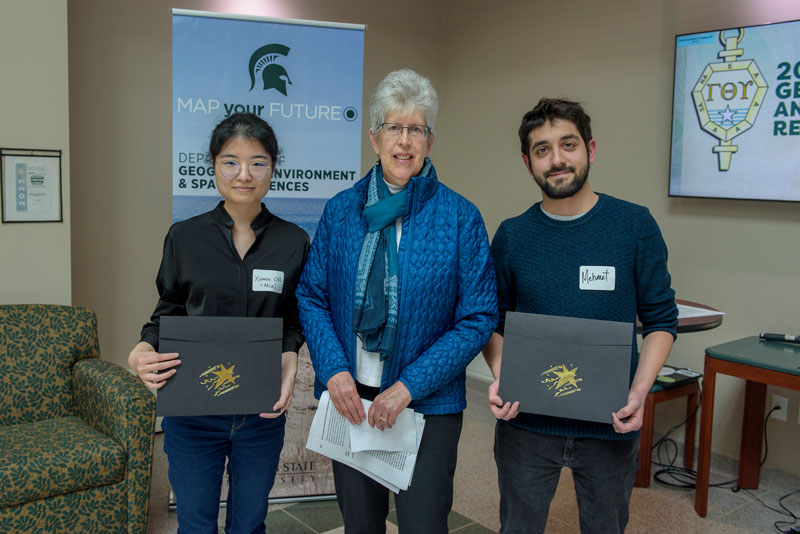 Marjorie and Lawrence Sommers Geography Graduate Fellowship for International Research & Travel | Xiumin Cai and Mehmet Eroğlu
The Marjorie and Lawrence Sommers Geography Graduate Fellowship is awarded annually to Master's or Ph.D. students to support international research and travel within the next 12 months.
Mehmet Eroğlu is honored to receive the Sommers Travel Award, which will significantly support his summer research endeavors. This summer, Mehmet will conduct his fieldwork in Zonguldak, Turkey, as part of his dissertation project examining the decline of the coal industry in the region. During his fieldwork, Mehmet will explore sites with historical and cultural connections to the coal industry, interview local residents of Zonguldak, and conduct archival research to better understand the area's deindustrialization. Mehmet believes that this award is essential for the successful completion of his summer research.
Xiumin (Mia) Cai is honored to be given this award and opportunity. "As a first-year student here, It means so much to me, and I would like to extend my sincere thanks to Dr. and Mrs. Sommers and the members of the committee who took the time to review my application and trust me for this award," she said. Mia would take this opportunity to conduct a field survey for her thesis research in Hainan, China, to better understand the implications of the land transition to the livelihood of minority-dominant farmers and communities.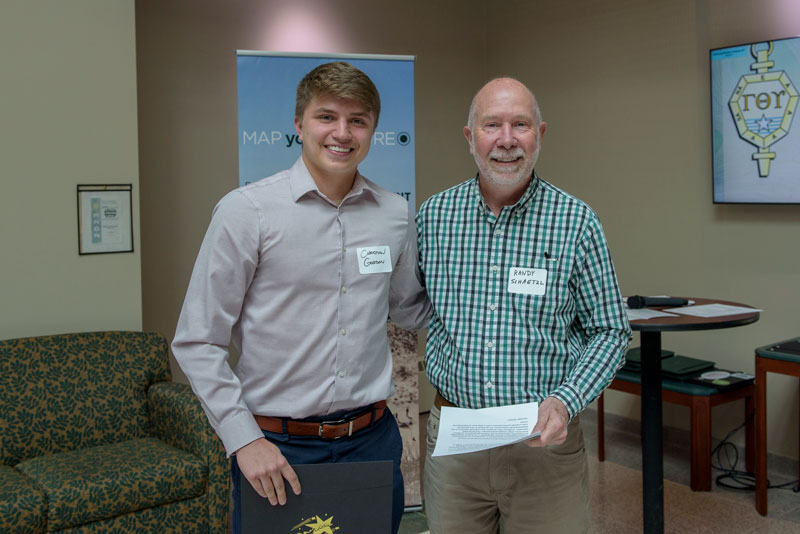 Daniel Jacobson Memorial Scholarship in Cultural Geography | Christian Gordon
The Daniel Jacobson Scholarship is awarded to an outstanding student at the Junior level, majoring in Human Geography or Economic Geography and especially interested in the cultural geographies of Native Americans and other marginalized groups and geography education. 
Christian Gordon is an undergraduate student in the College of Social Science. Christian said he is "incredibly grateful and honored to be the 2023 award recipient of the MSU GeographyDepartments' Jacobson Award. Moving forward with my career, I will do my very best to spread the message of Daniel Jacobson and hold our shared values as a compass for my actions, striving to make a positive impact in the field of geography and beyond."
Owen Gregg Endowment for Global Climate Change Research | Clayton Sigmann and Vasily Tolmanov
The Owen Gregg Endowment was established in 2012 to support global climate change science research in the MSU Department of Geography. Undergraduate majors or graduate students in Geography pursuing studies that make significant progress toward understanding climate change, its causes, and impacts are eligible to apply.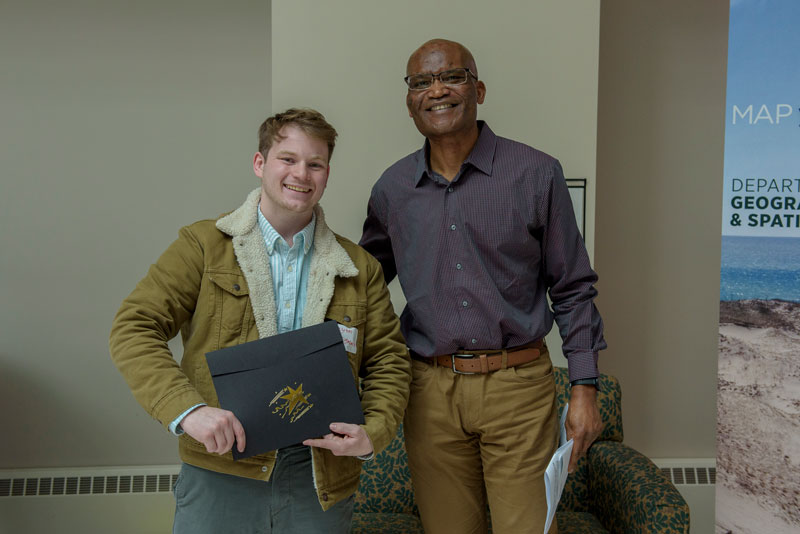 Clayton Sigmann, a master's student working on climate change issues in the tourism industries of northwestern Michigan, said he was "greatly appreciative to receive the Owen Gregg Climate Change Research Award. It represents a landmark not only in my education but also in my progress throughout the Geography department." Clayton plans to use the award to support the presentation of his results at the 66th Annual International Association of Great Lakes Research (IAGLR) Research Conference in Toronto, Ontario, in early May. "Receiving this award further supports my educational process as a form of recognition. This has left me encouraged to continue my educational journey and take on the diverse problems in Geography."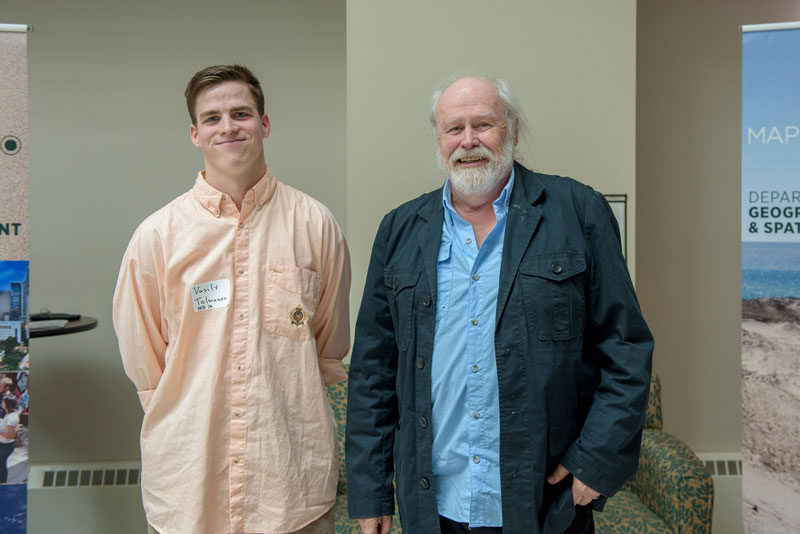 Vasily "Vasya" Tolmanov is a Ph.D. student specializing in physical geography with a special interest in interest assessing the current state of permafrost and periglacial systems under various impacts, both natural and anthropogenic. He is honored to receive the Owen Gregg Climate Change Research Award and plans to help support his research efforts. Vasya has studied permafrost for more than eight years, and he is fascinated by the complexity of permafrost-climate interactions. "Permafrost is a "product" of the climate and all the changes that are happening now, including warming the permafrost temperatures, and degradation of the permafrost systems directly related to the changes in the global and local climate," he explained. "It impacts human life too and threatens the objects of infrastructure and changes the way of life for the many native peoples living in the Arctic." Vasya will use the funds from the Owen Gregg Climate Change Award to work on a study looking at the active permafrost layer and its spatial variability. "The award motivates me for future work and helps me to prepare for an extensive 2+ months of the field season. I am very grateful to our department for providing many opportunities for graduate students and to Owen Gregg for the continuous support of this award. I will keep working hard towards the completion of my degree and hope to contribute more to the advances of permafrost studies," he said.
The de Blij Geography Scholars |Corbin Paules and Dominic Vento
Instituted in 2013 by Harm de Blij and supported by other major donors, the de Blij Scholars awards scholarships to promising first-year students who choose to major in Geography at Michigan State University.
Corbin Paules transferred to MSU last year from Oakland Community College and was awarded the de Blij Geography Scholarship in the fall. Corbin hopes to earn a geography degree at MSU so that he may continue along his path to pursuing his passion. He plans to use the award to help cover part of his tuition.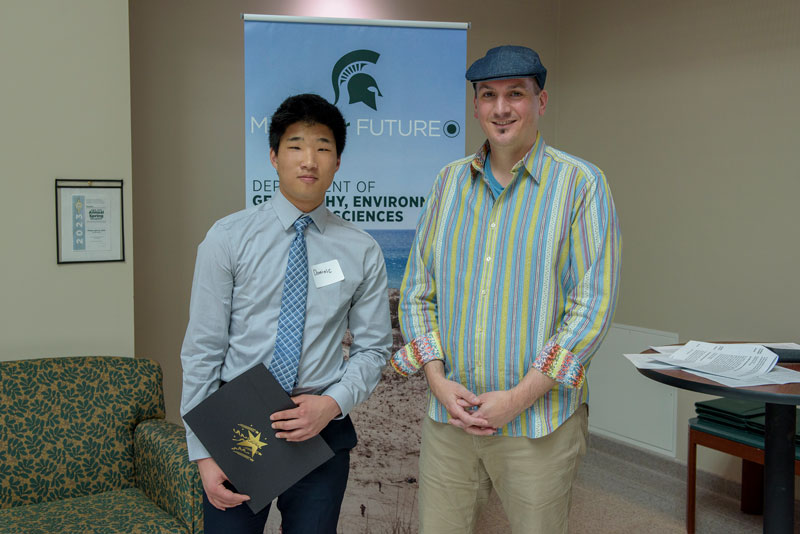 Dominic Vento was awarded the de Blij scholarship this spring. He is thrilled to receive the award and said, "It is an incredible opportunity that will help me achieve my goals." He thanks the Department for investing in his future through the de Blij scholarship.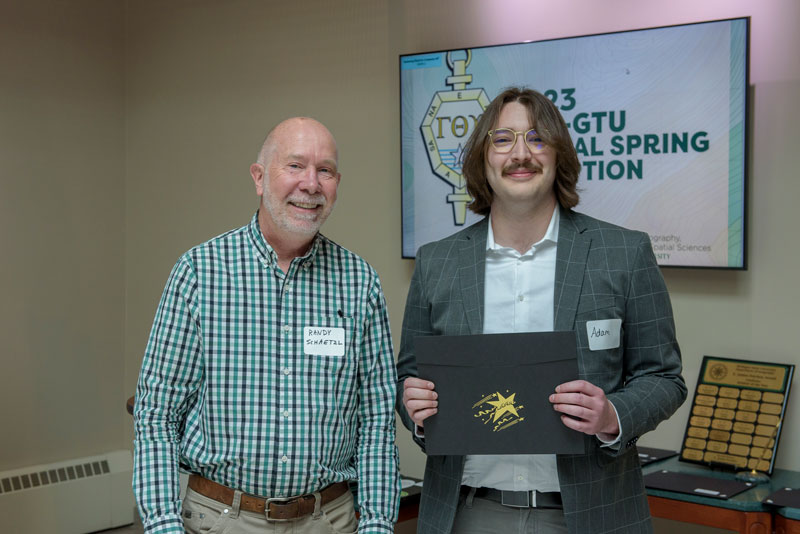 Harold A. "Duke" Winters Fellowship in Environmental Geography| Adam Subora
The Dr. Harold A. "Duke" Winters Memorial Fellowship is awarded to an outstanding student at the Junior level, majoring in Environmental Geography. Adam Subora was this year's recipient of the Winters Award. "I am very honored to receive this award; it is a true reflection of how great the department, faculty, and staff are. I plan on using this award to aid me through grad school," said Adam.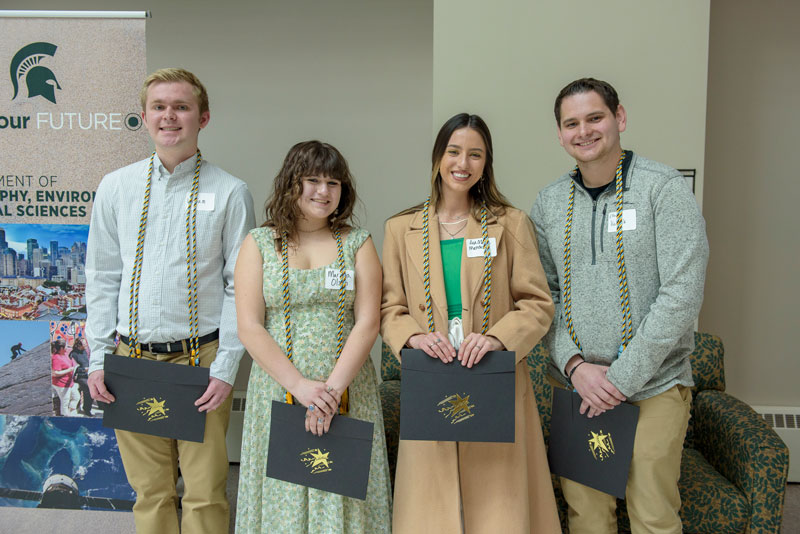 2023 Gamma Theta Upsilon Initiates
Congratulations to our newest Gamma Theta Upsilon members: William Romanyk, Marlena Olson, AvaMarie Mendoza and Ethan Kalchik. Gamma Theta Upsilon (GTU) is an international honor society in geography. Gamma Theta Upsilon was founded in 1928 and became a national organization in 1931. Members of GTU have met academic requirements and share a background and interest in geography. GTU chapter activities support geography knowledge and awareness.