Transfer Student Earns de Blij Geography Scholar Award
October 17, 2022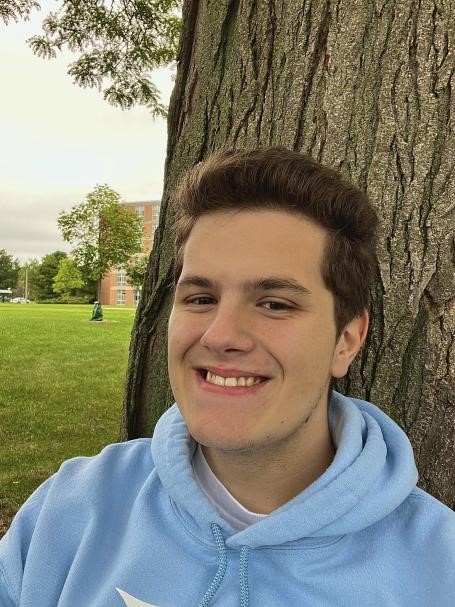 The Michigan State University Department of Geography, Environment and Spatial Sciences congratulates Corbin Paules for the coveted de Blij Geography Scholar award. Corbin is a recent transfer student to MSU and the Department from Oakland Community College. He decided on MSU because he was looking for a prestigious geography school in Michigan. "I was fairly sure I didn't want to go out-of-state due to the distance and the costs associated with it, while I also knew I wanted to pursue something related to geography because it has been my passion since I was a kid," said Corbin. "MSU was already at the top of my list, but once I visited the campus and saw just how pretty the scenery was, I knew this is where I'd like to transfer to!"
Corbin hopes to earn a geography degree at MSU so that he may continue along his path to pursuing his passion. He plans to use the award to help cover part of his tuition.
Instituted in 2013 by the celebrated geographer, the Harm de Blij Geography Scholar Award is designed to offer scholarships to outstanding students who choose one of the four degree programs in the Department of Geography, Environment, and Spatial Sciences at Michigan State University (BA in Human Geography, BS in Economic Geography, BS in Environmental Geography, BS in Geographic Information Science). Incoming students recognized as de Blij Scholars are awarded $1000 each year that they are a primary major in one of the Department's degree programs.
Dr. Harm J. de Blij (1935-2014) was a professor of Geography at MSU from 1960-1969, when he left for the University of Miami and subsequent other appointments. In his long scholarly career, he authored more than 30 books, including a number of widely adopted textbooks – several of which have gone on to multiple editions – and over a hundred scholarly articles. He served as editor for National Geographic Research, the National Council for Geographic Education's Journal of Geography, and as co-editor of the Wiley/National Geographic College Atlas of the World. He made a significant mark outside of the world of academia by becoming the popular Geography Editor on ABC television's Good Morning America and as a frequent analyst at NBC. He was a tireless champion of geography and was constantly on the lecture circuit over the last decades of his life, speaking to a wide variety of audiences about the importance of the discipline of geography for understanding the world and its many issues. He returned to Michigan State University as the John Hannah Distinguished Professor of Geography in 2000, and whenever he was on campus, he would make a point to visit with graduate students and undergraduate classes. He authored several widely read trade books: The Power of Place, Why Geography Matters, and its expanded second edition, Why Geography Matters More Than Ever.
Congratulations, Corbin!