Recent Geography Ph.D. Graduate Earns Prestigious USGS Mendenhall Postdoctoral Fellowship
June 20, 2022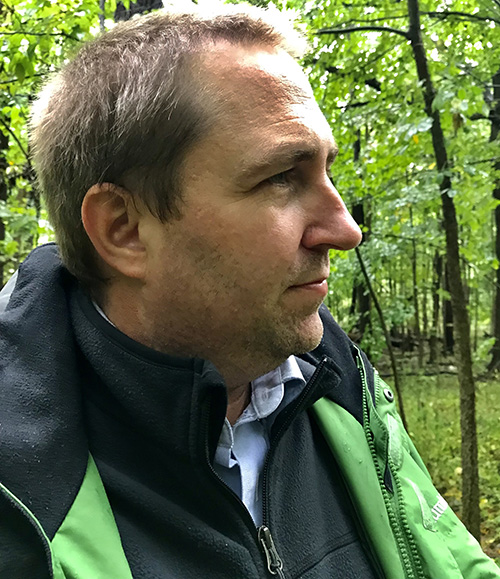 After successfully defending his doctoral dissertation "The Geography and Recent Activity of Lake Michigan's Coastal Sand Dunes" in late May, Dr. Kevin McKeehan is looking forward to the next chapter of his professional research career—a coveted postdoctoral fellowship with the U.S. Geological Survey (USGS). Named in honor of Walter C. Mendenhall, a pioneer in the fields of Geology and Hydrology and the 5th Director of the USGS, the Mendenhall Research Fellowship Program provides Fellows with meaningful experiences designed to enhance their scientific stature and credentials.
During this fellowship, McKeehan will be working to leverage the latest digital elevation models and machine learning applications to better understand how to model and track trends in dune morphology to more accurately monitor, measure, map, and predict changes to dune fields over time. This proposed research is particularly important in filling several gaps in the current field of knowledge regarding how dunes change ecogeomorphically over space and time. The work could also help establish procedures for mapping dunes that the USGS could follow for years to come.
During his appointment, his first research objective will be to augment the existing GeoNat v1.0 natural feature dataset with sand dune features. This database, used to train artificial intelligence-based mapping programs, has not previously included such training data. After successfully constructing this updated dataset, McKeehan plans to map multiple dune areas for the U.S. using the TerrainAI framework, the Landform Reference Ontology (LFRO) guide, and the Faster-RCNN (RCNN), a region-based convolutional neural network. At this point, his plan will be to replicate the process seasonally to determine how these sensitive landforms change over time, tracking trends in dune morphology. Lastly, with the trove of new digital elevation data, McKeehan hopes to test several terrain ruggedness metrics at various scales to determine the optimal methods of measuring landscape heterogeneity.
Utilizing Geographic Information Systems (GIS) and researching the dynamics of sand dunes is certainly not new to McKeehan. After earning a B.A. in Geography from The University of Texas at Austin in 2005, McKeehan worked for more than a decade in the field before deciding to pursue an M.S. at the University of Wisconsin-Madison, where his research focused on soil properties and topographic roughness of stabilized sand dunes in the Central Great Plains.
After arriving in the Ph.D. program at the Department of Geography, Environment and Spatial Sciences at Michigan State University in 2018, McKeehan worked closely with his advisor and renowned coastal geomorphologist, Dr. Alan Arbogast. His research focused on understanding the current status of dune fields, studying how and why they have changed in the past, and how and why they will change in the future—work that could prove particularly valuable as climates change globally. As McKeehan embarks on this new opportunity, he will continue exploring his interest in why stable grassland sand dunes reactivate, mobile dunes stabilize, soil development in dunes, how to measure surface roughness, and what human impacts affect these Aeolian environments.
As a Mendenhall postdoctoral fellow, McKeehan will be appointed to the USGS for two years and receive full salary and benefits. His primary appointment will be at the Center for Excellence for Geospatial Information Science (CEGIS) located in Rolla, Missouri. Congratulations, Dr. McKeehan! The Department wishes you all the best and looks forward to your continued contributions to the discipline.
To learn more about the Mendenhall Research Fellowship Program, visit https://www.usgs.gov/centers/mendenhall-research-fellowship-program.