Professional GIS Certificate and Drone Test Prep Courses Offered this Summer
March 22, 2022
We offer two 7-week long sessions of Professional GIS Certificate Courses over the summer semester. Registration is now open.
Summer Session 1 (2 May to 17 June 2022)
Summer Session 2 (27 June to 12 August 2022)
These 7-week professional development courses can be taken individually or in combination (4) to earn a Professional Certificate in GIS. This certificate aims to advance the skillset of professionals currently working in fields that use geospatial technologies. It is also an excellent opportunity for all professionals and others looking to revamp their current career, earn continuing education or teaching credits, or simply further their education.
The four professional certificate courses in Geospatial Tools & Technology qualify for both the State of Michigan SCECHs and Michigan State University CEUs. You can earn teaching credits (55 or 60, depending on the course) in seven weeks while advancing your geospatial skill set.
The certificate consists of four fully online courses: Introduction to Geospatial Technology, Geographic Information Systems, Remote Sensing, and Cartography with topics ranging from map design to ethics of geographic information, and much more. In addition to content-based modules, each course features a series of online labs designed to give students hands-on experience using geographic information systems (GIS) and related technologies and improve technical competency.
Would you like to earn a Professional Certificate in GIS and also earn credits? You can do that, too. Just register for the undergraduate versions of our professional courses: GEO 221v, GEO 221LABv, GEO 324v, GEO 325v, and GEO 326v. Check out the MSU Schedule of Courses to see when these courses are offered.
Ready to register? Registering for a professional course is easy--let's get started.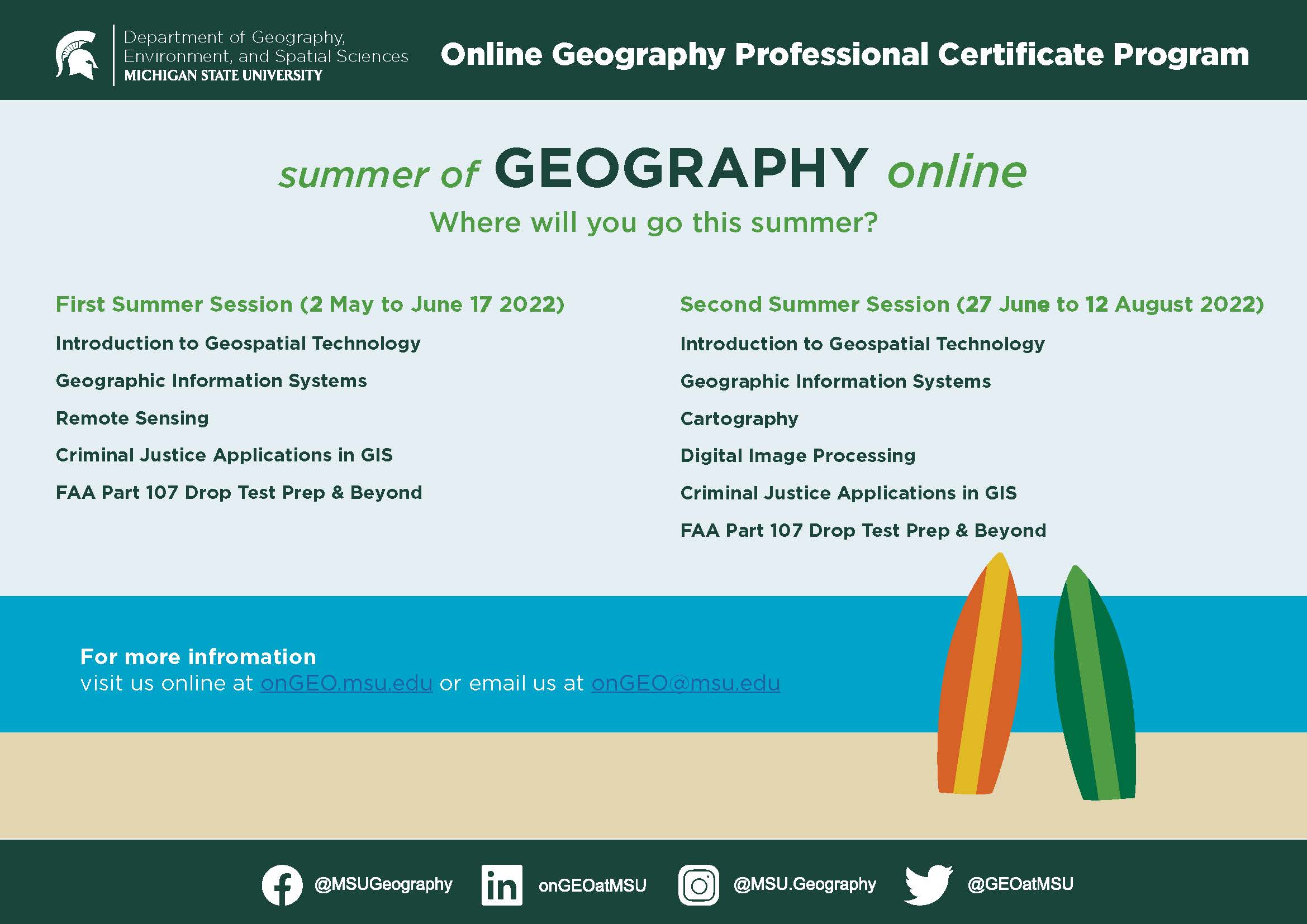 ---
onGEO is a working group of the Department of Geography, Environment, and Spatial Sciences at Michigan State that develops and administers the Department's online course offerings. To find out more, visit https://ongeo.msu.edu/.
Contact:
Yi Shi, onGEO @Michigan State University
onGEO@msu.edu