Dr. Amber Pearson to Present on Blue and Green Spaces at 2020 SHIFT Summit
September 16, 2020
Blue or green, the mental health benefits of natural spaces have been the subject of increasing levels of study from researchers around the world. The research of Dr. Amber Pearson, a health geographer at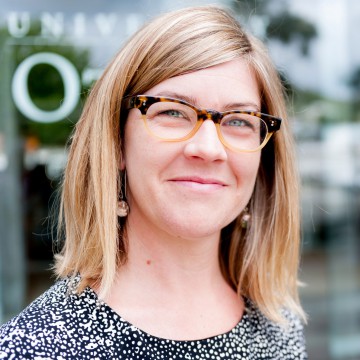 Michigan State University, is at the intersection of these spatial and social dimensions of health with a particular focus on water availability. Pearson will be bringing her expertise in the field to the 2020 SHIFT Summit in October. The Summit, entitled "Healthy by Nature," is organized by SHIFT (Shaping How we Invest For Tomorrow) and will focus on the mental health benefits of time outside, including research that looks at access to nature and corresponding public health outcomes.
Dr. Pearson will join several panelists in a session entitled "Resource Management: Blue Space, Green Space," during which they will discuss what research is telling us about the ways both of these natural spaces are being successfully repositioned as health care interventions. The discussion will highlight many aspects of her overall research goal to understand the interactions between human-induced ecological change, political and social dimensions of access to water, and human agency/coping strategies to improve health and wellbeing while paying careful attention to health inequalities and environmental justice.
The Summit will be broadcast virtually from Jackson Hole, Wyoming, from October 14-16, 2020. On October 14 at 9:00 AM, Dr. Pearson will join her fellow panelists Mat White, Senior Lecturer at University of Exeter Medical School and 2020 SHIFT Award Winner in Research; Mireia Gascon, Assistant Research Professor at Barcelona Institute for Global Health, and Aaron Reuben, PhD candidate at Duke University. For more information, please visit https://shiftjh.org.
In addition to her appointment as Associate Professor in the Department of Geography, Environment, and Spatial Sciences at MSU, Dr. Pearson is part of MSU's Global Water Initiative, has a partial appointment with the Environmental Science and Policy Program at MSU, and also serves as an Adjunct Fellow at the University of Otago, Wellington, New Zealand.