Ana Rivera Named Diversity Torch Recipient
September 15, 2020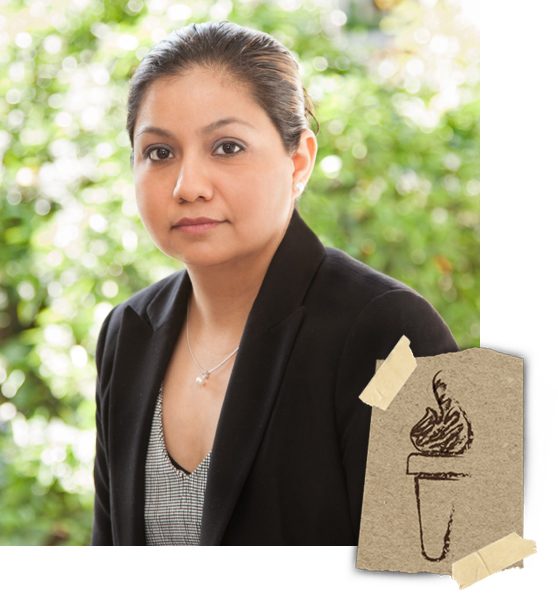 Congratulations to Ana Rivera on being recognized as a Diversity Torch recipient this month from the College of Social Science. Rivera is a graduate student in Geography, Environment, and Spatial Sciences who is committed to improving urban environments through the use of geospatial science.
As our climate changes, social scientists are trying to find ways to make cities and urban communities more sustainable and resilient. Ana Rivera, a PhD student in the Michigan State University Department of Geography, Environmental, and Spatial Sciences and the Global Urban Studies Program (GUSP), and a University Enrichment Fellow (UEF), is joining in on this mission, and bringing with her a deep understanding of urban sustainability and Hispanic and Latinx communities.
Ana was born and raised in Mexico, where she earned her Bachelor's degree in Architecture and her Master's degree in Environmental Systems. After moving with her husband to San Jose, California, Ana earned her second Master's degree in Geography. It was then that she decided to pursue a PhD - and set her sights on MSU.
"I came to MSU because it has such a big, diverse geography department with a lot of different programs and specialties," explained Ana. "That's why I decided to leave the nice weather of California and come to the harsh winter weather of Michigan." 
Here, Ana's research focuses on urban communities and climate adaptation within different communities - especially the Hispanic community. She studies how cultural practices of different ethnic groups can help individuals and families cope with extreme weather events, as well as how immigration to the U.S. can affect health outcomes. 
Outside of the classroom, Ana is extremely involved in community outreach programs. When arriving in San Jose and living in the U.S. for the first time, Ana noted she felt different due to her background. "I became aware of my race living in the U.S., which was something I didn't grow up with in Mexico," explained Ana. "I felt very proud of my Hispanic heritage, and got involved with the Hispanic Foundation of Silicon Valley to recruit more Hispanic and Latinx students into STEM fields."
After coming to Michigan, Ana joined the board of the Lansing-based Latino Health Alliance (LHA) and helped plan community outreach programs, such as health-related resource fairs. In 2019, the LHA hosted the Hispanic Health Awards, which allowed local hospitals to nominate and celebrate their exemplary Hispanic and Latinx health practitioners. 
To Ana, healthcare accessibility is an extremely important issue. "A lot of immigrants face challenges receiving healthcare because they don't know the specialized words for specific medical issues, so bridging the language gap is so important."
The language gap is something Ana is working to bridge in her classes as well - not only for Spanish-speaking students, but for all international students from around the world. 
"When you come to the U.S., even if you've learned English or taken classes, you still have to learn slang and that's extremely difficult," Ana said. "Many professors in the U.S. are not aware of this and sometimes use a lot of slang in their lectures. Also, academic writing is extremely challenging, because on top of learning everything else about the English language, you have to learn a specialized grammar style as well."
To address this issue, Ana has created an exam review method in which students interact with images and concepts rather than specific terms, and has found that this study style has helped students earn better marks on their tests. 
To Ana, Hispanic Heritage Month means bringing awareness to opportunities for inclusion, but also celebrating the many diverse communities it encompasses.
"As Hispanics, we tend to be put in the same box together," Ana explained. "I wish people were more aware that Puerto Ricans, Cubans, Mexicans, Central and South Americans, et cetera, are all very different. The Hispanic culture is a spectrum of a wide range of different colors and ideas."