Dan Wanyama
Graduate Students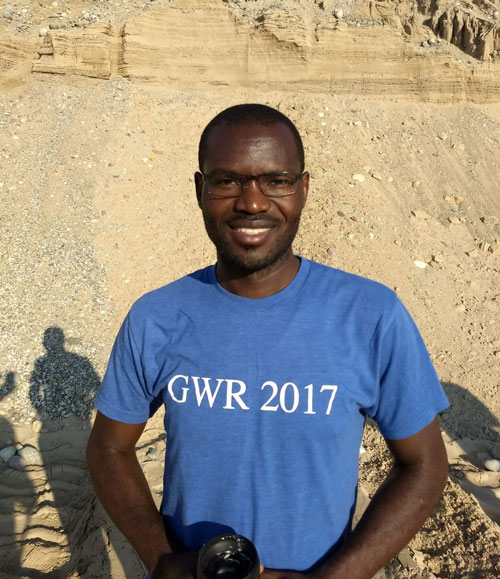 Geography, Environment, and Spatial Sciences
Geography Building
673 Auditorium Road, Room 116
East Lansing, MI 48824
AREAS OF INTEREST
Climate change and environmental change; Sustainability of human and natural systems; Socio-ecological vulnerability; Climate change impacts on agriculture and human health
---
RESEARCH SYNOPSIS
My research focuses on assessing climate change impacts on agriculture and the natural environment – and the ultimate effects on local people's livelihoods and environmental stability. Within my dissertation research, I am examining human-environment interactions and landscape change under climate change within the Mount Elgon ecosystem (MEE, Kenya, and Uganda) in order to simultaneously enhance environmental conservation and improve local livelihoods. This work includes a comprehensive assessment of persistent greening and browning in the MEE and analysis of spatio-temporal patterns of precipitation change in the area – using earth observation and smartly interpolated model data. It also involves a detailed assessment of ecological and environmental (eco-environmental) vulnerability of the MEE using climate, topographic and socio-economic variables. Here, I aim to find priority areas for policy intervention by identifying, and assessing spatio-temporal changes therein, variables that characterize the vulnerability of this mainly agricultural ecosystem. Finally, I am developing a spatial agent-based model (ABM) seeking to model local farmers' decision-making processes, with the goal of finding a good balance between environmental conservation and agricultural development.
Within my research assistantship with Remote Sensing and GIS Research and Outreach Services (RS&GIS), I am using a variety of programming and geospatial technologies to characterize the effects of climate change on agriculture and other sectors. Past projects include an assessment of cold air movement within apple orchards in Michigan (using precise high-resolution LiDAR data), an investigation of the effect of climate warming on the expanding land suitability for wine grape production in Michigan, and the generation of important topographic data for mapping topographic airflow dynamics in all known apple-growing areas of Michigan. I am currently involved in (i) developing future climate projections and assessing the influence of climate change on the wine grape industry in Michigan, (ii) developing current land suitability surfaces for wine grape production in the state, and (iii) assessing spatio-temporal occurrence of extreme heat events in North America.
Before joining graduate school, I worked as Water, Sanitation, and Hygiene (WASH) Project Officer at Education Effect Africa, a non-governmental organization in Nairobi, Kenya. My role here was to sensitize parents, teachers, and students in rural Kenya on themes related to WASH and health, and to coordinate the development of sanitary infrastructure in schools. I hold an MSc in Geospatial Science from the University of North Alabama (Florence, Alabama), and a BSc in Environmental Studies and Community Development from Kenyatta University (Nairobi, Kenya).
---