Dr. Raechel Portelli
Faculty
Geospatial Technologies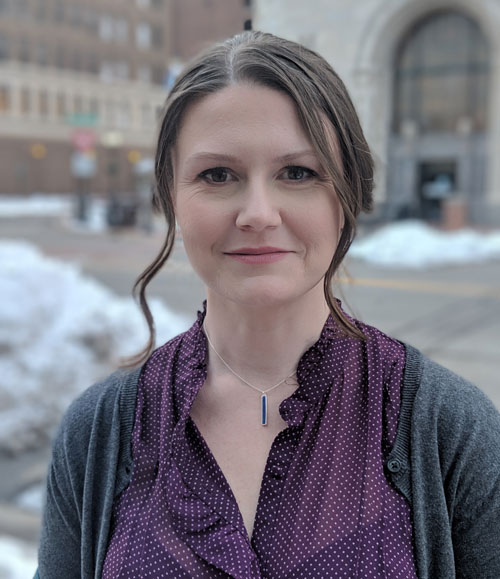 Geography, Environment, and Spatial Sciences
Geography Building
673 Auditorium Road, Room 234
East Lansing, MI 48824
517-353-0308
AREA OF STUDY
Geographic Information Science
---
BIOGRAPHY
Dr. Portelli has a Ph.D. in Geography from Pennsylvania State University (2014). An MS degree in Physical Geography (2010) and two B.S. degrees (2009), one in Social Environmental Science and one in Physical Geography. She began her appointment here at Michigan State University in 2014.
---
RESEARCH INTERESTS
Dr. Portelli's research examines the development of computational methods of emulating human image interpretation using Geographic Object-Based Image Analysis (GEOBIA) and machine learning. Her current research examines the linkages between ground-based imaging techniques, Unmanned Aerial Systems, and plant community dynamics in grazed and disturbed landscapes.
Her prior research has addressed geologic applications of high-resolution remote sensing imagery for understanding coastal, forestry, and planetary geology processes. Her dedication to the remote sensing discipline led her to study historical trends in knowledge diffusion in air photo training texts during the early twentieth century and their survivability through the latter part of the twentieth century as disciplinary focus shifted towards machine-based image analysis.
---
ADVISING
She is a former McNair Scholar and first-generation college student. She attempts to support students with similar backgrounds through her outreach work and inclusion in her research. She is currently not taking on new students for Fall 2020.
---
TEACHING
Dr. Portelli teaches a hodgepodge of courses here at MSU. Her favorite classes to teach are 
Geographic Object-Based Image Analysis
 and 
History and Philosophy of Geography
. She also oversees and instructs the two cartography courses at 
MSU, Map Design
 and 
Thematic Mapping
. She is currently developing a course on the history of women in remote sensing that will be taught in the near future.
---